Accessibility plays a key role in the design, development, and delivery of online assessments. To be frank, it can make or break a test-taker's experience. As someone who's involved in exam creation and administration, you know that accessibility in online assessment can illuminate test-taker skill and knowledge by avoiding issues of inequity, bias, and more. Inclusive exam content and programs designed with accessibility in mind can enhance the overall testing experience.
Unfortunately, creating accessible online assessments that go beyond ADA compliance is sometimes challenging. For many institutions and organizations, it's been an aspirational milestone rather than a test-taking right. But with an increasingly diverse global population, it's more important than ever to ensure exams are accessible and inclusive for all your test-takers.
"It is the responsibility of testing programs and assessment vendors/providers to continuously improve the accessibility of their products and to provide reasonable accommodations for all test-takers. This commitment is necessary to uphold the integrity of all exams, now and in the future."

Dr. Ashley Norris
SVP of Strategic Growth Initiatives, Meazure Learning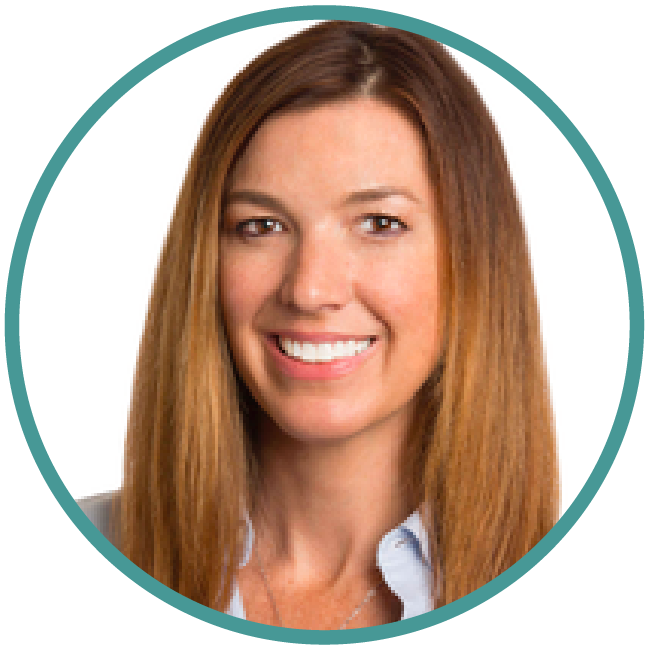 Accessibility Is a Key Part of Online Assessment
The term "accessibility" has evolved in the professional development, education, and testing industries. Today, it's about more than just removing physical barriers that could interfere with a test-taker's performance. It involves anticipating and avoiding all the social, geographic, financial, and cognitive barriers that could affect test-takers. Put simply, accessibility in online assessment ensures an exam isn't hard for the wrong reasons.
Inclusive and accessible online exams accommodate the unique needs of each test-taker. They embrace diversity and help move test-takers forward by providing relevant content in usable ways. And while it may take additional time and effort to design, develop, and deliver equity-centric exams and digital experiences, new research shows the value of doing so.
81%
of higher-ed students cite positive digital experiences as a factor in overall institutional satisfaction
More than half
of higher-ed staff believe flexible learning will increase in the near future
One in four
students rank diversity and inclusion among institutions' top three values to uphold
Source: Salesforce
So how can we remove barriers to online testing in both higher education and professional testing?
Making Online Exams More Inclusive and Accessible
Accessibility should inform decision-making at every stage of the assessment life cycle, from design through delivery. As an instructor, test developer, or administrator, you should think about accessibility from the ground up, beginning with your exam objectives and blueprint. The reason is simple: If you view accessibility from a limited perspective (e.g., accommodations during exam administration), you will inevitably fail to meet your test-takers' holistic needs.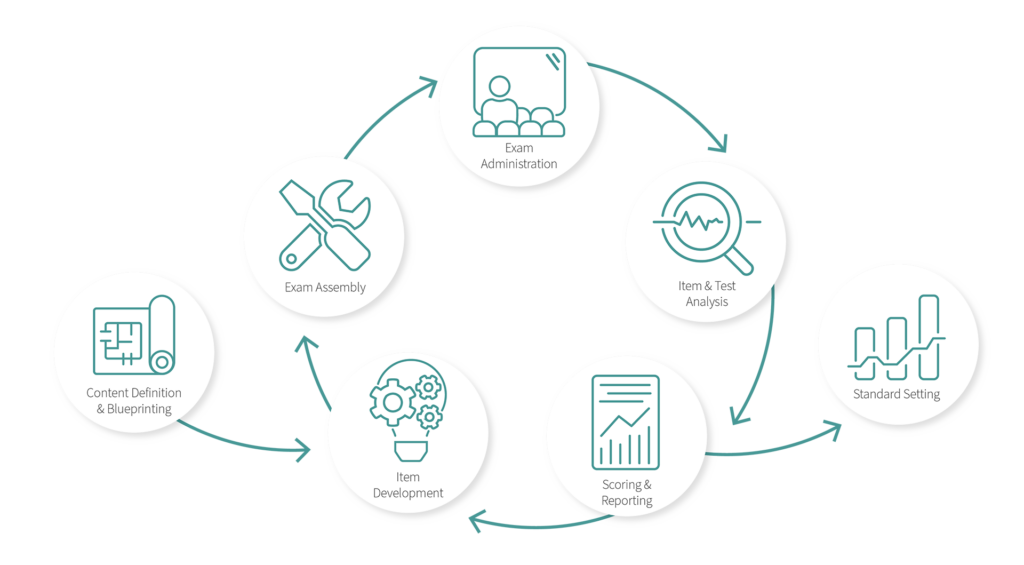 In general, the stages of the assessment life cycle can be broken into three categories: activities done before an exam, during an exam, and after an exam. Let's explore how accessibility in online assessment plays a role in each of these stage categories.
Accessibility Considerations Before Administering Online Exams
By helping test-takers with accessibility needs from the start, you can often avoid worst-case scenarios for your entire test-taker population. Test-takers learn and demonstrate their knowledge in different ways. They have different backgrounds, have access to different resources, and speak different languages. That's why it's important to be deliberate about your exam content and design from the beginning.
Align an Exam's Content and Design to Its Purpose
Creating a meaningful and inclusive online assessment increasingly involves non-traditional—or "innovative"—item types. Gone are the days when multiple-choice items were believed to fit every need and assess every skill. If the objective of your program is to evaluate test-takers' preparedness for, say, a health-care role, an exam composed of traditional item types may not accurately represent the necessary knowledge and skillset.
As assessment and learning evolve, we must place greater emphasis on mirroring real-world scenarios to evaluate competency. Thinking about exams this way fosters accessibility in online assessment because it homes in on what test-takers actually need to demonstrate—and eliminates the tasks that hinder test-taker engagement.
Now and in the future, you should consider the following when deciding whether to use innovative items: 
Program Purpose
What is the purpose and mission of your organization (e.g., to protect the public, verify education)? The higher the stakes of the exam and competencies being evaluated, the more you should consider items that test a higher order of cognitive skill.
Program Measurement
It's essential to determine what knowledge and skills to assess and what the most effective and precise way to measure them is. You should be aware of how the knowledge and skills are evaluated in practice and how they can captured in a standardized format.
Available Resources
Your program needs several resources—including financial, technological, and human—to develop and implement innovative items. You should determine which innovations are realistic and feasible given your organizational circumstances.
Mind Your Language in Online Exams
As an instructor or exam writer, you must consider the diversity of your test-taker population and avoid language that causes harm or exclusion. When you use inclusive verbiage (e.g., neutral pronouns), you show your respect for all your test-takers and their diverse backgrounds. It also reduces the likelihood that a test-taker will be distracted by an exam question or unable to answer it due to inaccessibility. And while it's critical to use inclusive language during exam creation, you should also consider how existing exam content will be translated for multiple languages.
Accessibility Considerations During Online Exams
The rapid rise in digital learning and assessment during the global pandemic highlighted a silver lining during a difficult time: increased convenience for higher-ed test-takers and those seeking professional licensure or certification. With online assessment, test-takers:
Have more opportunities to schedule and take exams
Can take exams in a location of their choosing instead of traveling to a test center, classroom, or another unfamiliar environment
Can more easily receive necessary accommodations
Combined, these factors reduce test-taker anxiety and barriers to accessibility.  
Offer Flexible and Diverse Exam Delivery Methods
When test-takers have the freedom to choose their exam delivery method, they feel more satisfied with the overall experience. In fact, a recent study shows that offering online and hybrid delivery helps support and retain professional learners and test-takers.
Delivery Methods and Accessibility Considerations
Pro
Con
Remote Delivery
Offers a familiar environment and eliminates the time and costs required to travel to a test center
Requires a quiet environment and reliable hardware and internet connection
Test Center Delivery
Offers reliable hardware and in-person administration support
May lack full accommodation support and requires travel time and costs
Hybrid Delivery
Provides test-taker flexibility
Requires more organizational coordination
Event-Based Delivery
Delivers a convenient test-taking experience
May lack full accommodation support and requires travel time and costs
Each exam delivery modality has advantages and disadvantages in terms of accessibility. For example, a test center can ease many technological or environmental concerns (e.g., a noisy home setting), but it can't accommodate as many special requests from test-takers with disabilities. Conversely, many test-takers who require accommodations can find greater accessibility with remote delivery because they can test with familiar or specialized equipment from the comfort of their own home.
Furthermore, remote delivery can offer more discretion for test-takers with special needs because fewer people require access to the request. During an in-person exam session, test-takers with accommodations often feel singled out, which can be a distraction for them and other test-takers around them.
Make Sure Your Exam Delivery Software Is Accessible to All Test-Takers
To trust the results of any test, test-takers must have a fair and equitable test environment, regardless of delivery modality. That means all test-takers have unencumbered access to the exam content. For individuals with disabilities, however, an inflexible online testing interface can create seemingly insurmountable challenges.
Unfortunately, software-only proctoring solutions can't guarantee a level playing field for all test-takers. The potential for systems to flag test-taker activity when a violation hasn't occurred is a serious concern that can have a profound impact on a test-taker's outcome. Some test-takers have a disadvantage before their test session even begins due to algorithmic bias or lack of professional proctors, whose job is to review and accept or reject each system flag.
Test-takers suffer when a proctoring provider doesn't:
Use algorithms trained to include a diverse range of test-takers
Require human oversight and validation of each test session prior to delivering reports back to the test administrators
We suggest you follow these guidelines when you review your exam and your vendor's platform:
Beware of essential documentation that's only available in video form. This information may be inaccessible to someone who can't watch the mouse click around the learning management system.
Make sure all support and help functions are usable for all test-takers, including those with disabilities.
Take notice if your provider doesn't adjust its features, functions, or processes based on feedback. Your provider needs to keep up with a changing world and be able to pivot as needed.
Accessibility Considerations After Administering Online Exams
During or after an exam, you should consult an intentionally designed dashboard to view and analyze test-taker performance data. Visualizing exam data in real time or near-real time can help you make informed inferences about the equitability and accessibility of your online assessment program. Furthermore, it can help you identify steps in the exam process that hinder test-taker outcomes. You can then use the dashboard data to make critical exam or program adjustments that positively affect your test-takers and their results. Ultimately, consulting equity-focused dashboards during or after an exam can help you create accessible assessment experiences in the future.
Conclusion
The recent digital transformation highlighted a need to make learning and assessment more accessible, equitable, and inclusive for all test-takers. Collectively, we've moved beyond a one-size-fits-all approach and forged a new test-taking reality that delivers more choices to a more diverse population. As we continue improving the overall assessment experience, we must view the process holistically, questioning how we can build accessibility into every stage of the assessment life cycle.
Want to learn how effective communication can make your exam more accessible to test-takers? Watch "Communicating Expectations to Test-Takers to Prepare Them for Exams."