What Is the Conference on Test Security?
Each year, experts from assessment organizations gather at the Conference on Test Security (COTS) to discuss test security capabilities and enhancements that protect the validity of test results and brand integrity. This year's conference—the 11th annual event—delivered on its promise to dive deep into the emerging technological capabilities and research that help deter and detect exam misconduct.
Held in Princeton, New Jersey, from October 26 to 28, COTS attracted nearly 250 in-person attendees and 75 virtual attendees from across the test security space, with roles ranging from data analysts and statisticians to psychometricians, program managers, and security professionals. This year's conference was hosted in partnership with the Educational Testing Service (ETS) and cohosted by Ascend Learning, Caveon, Examity, Pearson VUE, and yours truly—Meazure Learning.
Overview of the 2022 Conference on Test Security
Host
Cohosts
Location
Dates
Attendees
Audience
ETS
-Meazure Learning
-Ascend Learning
-Caveon
-Examity
-Pearson VUE
Princeton, NJ
October 26-28, 2022
-241 in-person
-75 virtual
-Security professionals
-Data analysts
-Statisticians
-Psychometricians
-Program managers
What Were the Major Themes and Trending Topics?
At this year's conference, discussions around exam security advancements reigned supreme. Through more than 50 presentations and panel debates, assessment and security experts weighed in on the following themes and topics:
Statistical methods and applications for detecting potential test fraud
Test security tools and methods for protecting the validity of testing results and brand integrity
Development or improvement of an organization's test security program
Development and use of standards for the prevention and detection of test fraud
Challenges, solutions, and the future of test security
Developing exam security at every stage of the assessment life cycle is always an important issue for testing professionals. But it's particularly important in the post-pandemic era as higher-ed and professional testing organizations explore new ways to protect their intellectual property (IP) and ensure test-taker qualifications.
"As an industry, we are no longer flying by the seat of our pants responding to the challenges imposed, but we are approaching a new normal in which we have learned some hard-earned lessons and established new guidelines and best practices for keeping our tests secure."

Conference on Test Security
How Was Meazure Learning Involved in the Conference on Test Security?
We not only cohosted the conference but also participated in a facilitated roundtable about the prevalence of cheating. However, our most exciting contribution came in the form of a case study presentation with two of our valued partners, MuleSoft and Caveon. Cory Clark—Meazure Learning's Director of Operational Excellence—led Caveon's Steve Addicott in a case study presentation about enhanced security monitoring in remotely proctored exams.
What Is Enhanced Security Monitoring and Why Is It Important?
In the presentation, titled "Raising Your Exam Security," MuleSoft's Simon Welham delivered a message about the importance of security to the integrity of an exam program. (Check out Welham's message via the video below.) Meanwhile, Clark and Addicott described the measures that global, high-stakes programs, like MuleSoft, can take to enhance their test security. Exam security is critical to prevent proxy testing, identify potential misconduct, and protect content from being compromised or shared. Therefore, security measures need to be present throughout the assessment life cycle—not just during the proctoring phase.
That's why Meazure Learning developed an Enhanced Security Monitoring (ESM) program. The ESM program conducts an adaptive post-session analysis of data trends to detect potential collusion, item harvesting, and/or behavioral patterns. The goal of the ESM program is to take a holistic approach in order to prevent, deter, detect, and react to exam security threats. By adopting this approach, Meazure Learning and its partners can regularly assess threats, create security solutions, and evaluate the results. The process involves deploying a constant monitoring and enhanced security strategy, which helps exam program leaders not only detect cheating but also identify integrity breaches and continually develop new security tactics.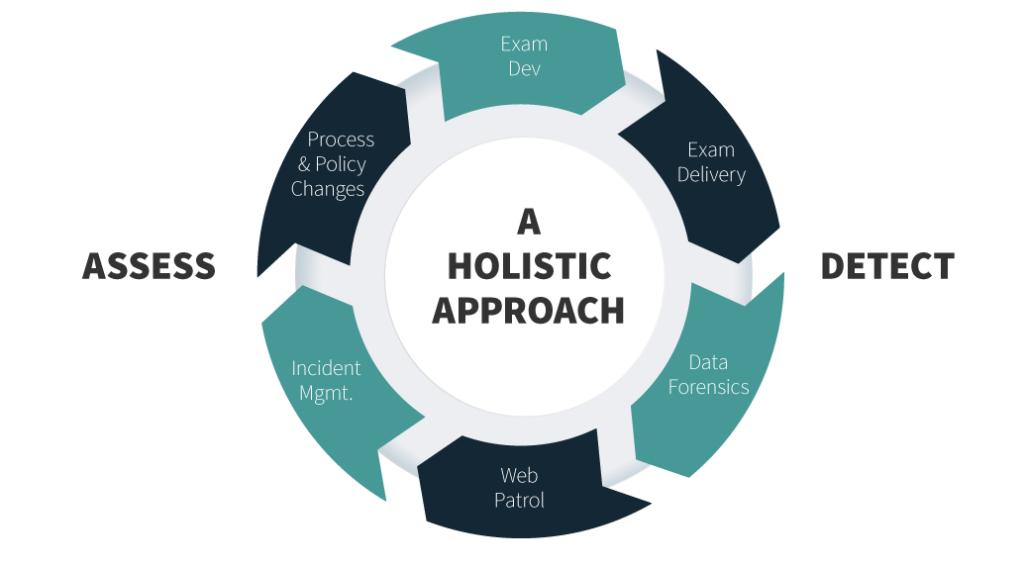 Enhancing MuleSoft's Test Security
During the "Raising Your Exam Security" presentation, Clark and Addicott reviewed a case study in which Meazure Learning, Caveon, and MuleSoft collaborated to protect the integrity of MuleSoft's exams. After administering the exams, we deployed our ESM program to detect data points that signal potential collusion in MuleSoft's program. This identification led to a deeper analysis by Caveon's web patrol team, which further detected and prioritized threats. Then Caveon's data forensics specialists highlighted suspicious patterns in MuleSoft's exams and relayed potential instances of cheating and fraud. With the actionable intel provided by Meazure Learning and Caveon, MuleSoft identified and blocked several instances of coordinated cheating.
Top 5 Lessons from the Enhanced Security Monitoring Program
During their presentation, Clark and Addicott described how their approach struck a balance between protecting IP and maintaining the overall test-taker experience. To protect your program's IP and uphold fairness in the credentialing community, consider the following best practices in exam security:
Use a secure browser (or equivalent) for internet-based testing.
Regularly review your exam questions, create multiple exam forms, and switch forms to limit areas of potential exposure.
Incorporate human review and validation before, during, and after testing.
Look beyond issues identified during and after online proctoring to see whether you can pinpoint trends, classes of activity, and behaviors of potential fraud.
Collaborate with a trusted partner to identify new threats, including virtual machines, harvesting tools, and coordinated cheating.
Conclusion
The 2022 Conference on Test Security explored the key conversations taking place in the assessment community. Over the course of 3 days, it delivered expert insights about test security capabilities, best practices for protecting the validity of test results, and lively debates about the future of security innovation. And while security problems will continue to emerge as the assessment industry evolves, there will be no shortage of visionary solutions to address them.
To learn more about emerging trends in test security, register for our upcoming webinar, "Advancements in Exam Security: How to Safeguard Your Program."