Robust Reporting
---
Make better decisions faster.
Your high-stakes exam needs the highest quality reporting. With us, you get access to data and analytics that'll help you identify trends, challenges, and opportunities for your program.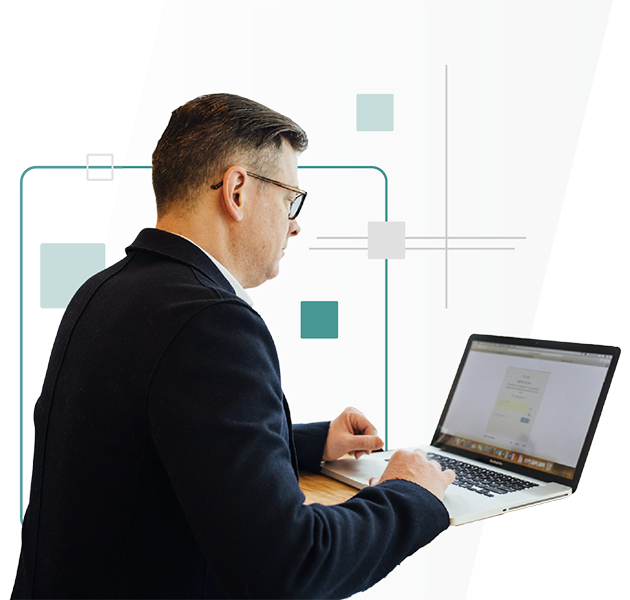 Real-Time Data, with Personalized Support to Help You Analyze It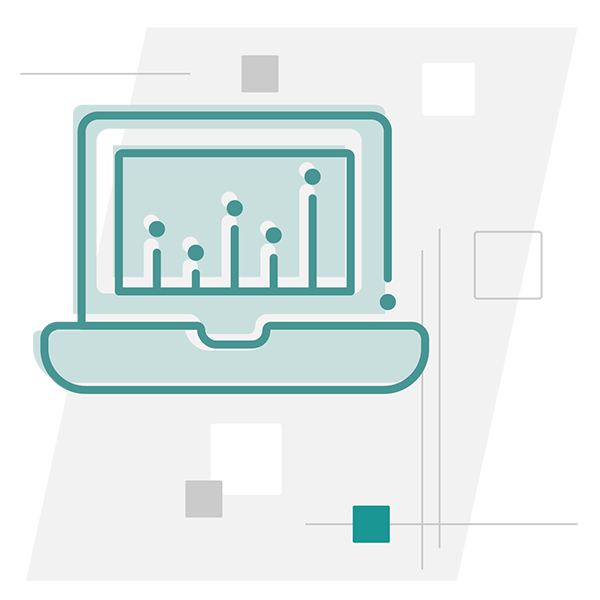 Don't settle for a one-size-fits-all approach.
Your exam is unique. Shouldn't your reports be too? Because we handle each exam holistically, you can create the customized reports you need to communicate your data and improve your program.
Get as much or as little as you want.
You call the shots when it comes to the level of insight you receive for each exam. And because we don't control your access to data, you can customize your approach on an ad-hoc basis.
Dig deeper with our program and advanced security specialists.
Uncover unique trends and opportunities for your program with the help of our test program consultants. Or tap our advanced security team to satisfy your ad-hoc reporting needs.
Robust Reporting, No Matter the Platform
ProctorU Proctoring Platform
Arm yourself with the tools and professional support you need to uncover meaningful data and analytics. From global to granular, the insight you get into each session will help you quantifiably improve your program.
Learn More
Meazure Exam Platform
Gain a 360-degree view of your program and test-taker performance. Everything you need to know about the effectiveness, defensibility, and security of your exam is at your fingertips.
Learn More
ProctorU Proctoring Platform Reporting Capabilities
We pioneered online proctoring at scale in 2008 and have since built the largest network of proctoring and support staff worldwide. That means the reporting capabilities you get through the ProctorU Proctoring Platform have been tried, tested, and refined by leading security and engineering experts. Whether you want to investigate a potential integrity breach or compare your program metrics to industry benchmarks, our full suite of reporting tools ensures you can access, visualize, and examine all the information you need to make better decisions faster.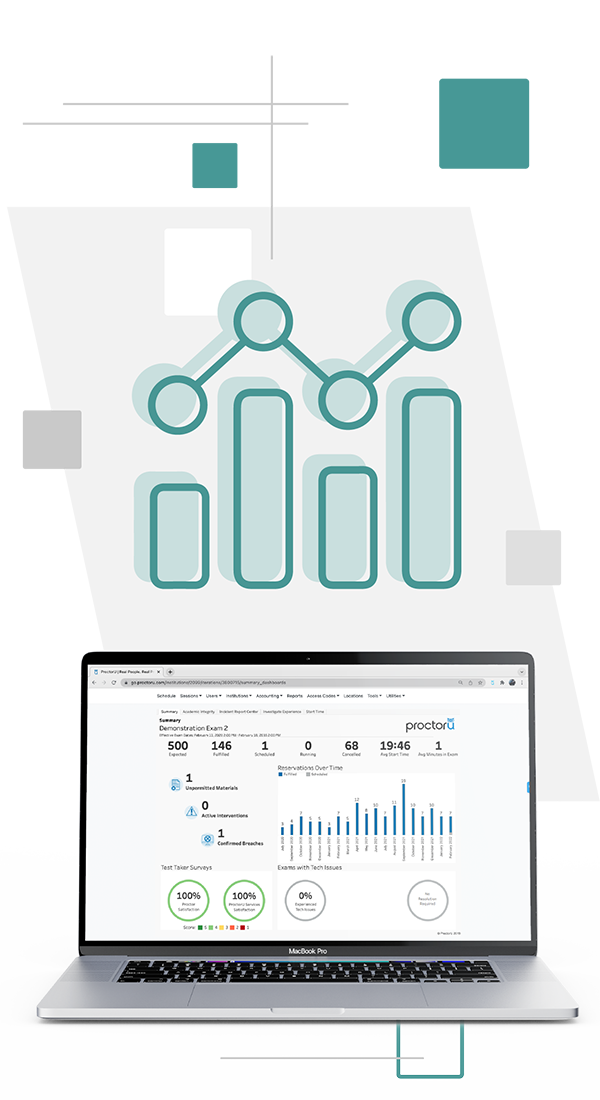 Exam Session Activity
Review exam and test-taker data in real time or retroactively. From a high-level summary to nitty-gritty specifics, compare stats such as volume, integrity incidents, tech issues, and wait times in as much detail as you want. What's more, all your data are formatted in easy-to-read charts, tables, and graphs so you can see potential issues at a glance. Get instructions on how to access and use this feature.
Incident Reports
When a suspected integrity breach occurs, you receive an emailed link to an incident report within 72 hours. This report provides all the information you need – including a detailed account of the incident, a timestamped video recording, screenshots, and chat logs – to make timely and informed decisions. Get instructions on how to access and use this report.
Performance Insights
You can review academic integrity and test-taker performance metrics by program, department, exam, date, and more. Track these metrics across programs, and compare them to industry benchmarks and our global proctoring averages to identify areas of improvement. The data provided are role-based, so administrators get insight into program-wide performance while facilitators have access to exam-specific metrics. Get instructions on how to find and use this feature.
Test-Taker Satisfaction
At the end of each exam session, your test-takers complete a five-question survey about their experience with the ProctorU Proctoring Platform and their specific proctor. While we use it to improve our platform and support offerings, you can review this information to better understand your test-takers' wants and needs.
Five Ways Data Can Improve Your Program
It's critical to generate detailed reports that communicate exam activity in a clear and valid way. Our goal is to help you make better data-driven decisions. With the right reporting tools, you can not only increase your program effectiveness but also streamline your process from start to finish. This article uncovers five ways you can use data to improve your online testing program.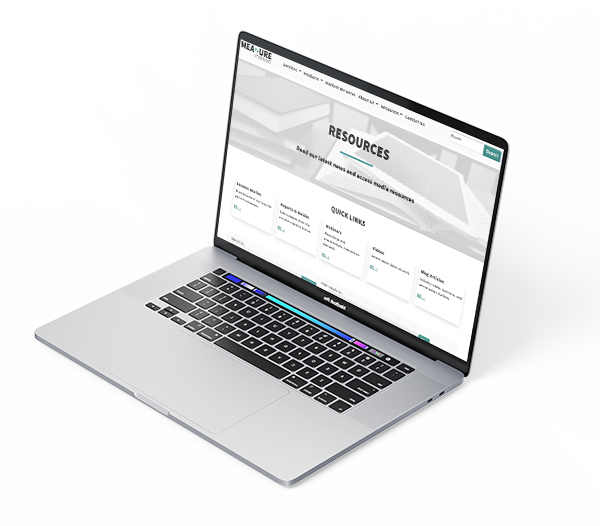 Meazure Exam Platform Reporting Capabilities
As the only system of its kind on the market, the Meazure Exam Platform gives you the freedom to access your data anytime, anywhere. Simply filter by variables to create custom reports, and then export your findings to shareable Excel or PDF files. Even better, cut down on repetitive report generation by building and organizing templates that meet your specific data needs.
And if you want help interpreting results or detecting collusion, don't worry – our psychometricians can lend a masterful hand.
Session Details
Get complete visibility into each session by reviewing the Booking History Report alongside the Exam History Report. These reports offer a snapshot of all session activity, including attendance, and can be viewed in real time or retroactively. Then use the Exam Response Report to analyze test-taker responses and total exam time.
Exam Content
Gain a better understanding of your exam content with the Items Report. This report summarizes the content housed in your item bank and lets you filter by type, author, metadata, and more. To see how your test-takers approach challenging items, review the Exam Notes Report, which shows what test-takers typed into the Notes feature of the platform.
User Management
Look no further than the User or Administrator Reports for information about a specific person. These reports make it easy for you to filter by name, organization, role, and more. After that, you can export your findings into a shareable PDF.
Psychometric Support
Consult our psychometric team to get increased data and insight into your exam. We're here to support you, whether you want help interpreting a report, scoring items, or detecting collusion. Learn more about our statistical support offerings or data forensics service.
Transparent and Ungated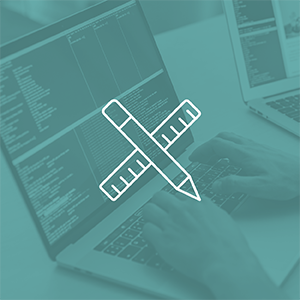 Customizable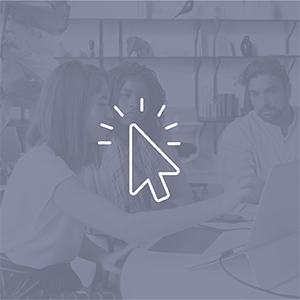 Actionable Insights
Take action.
Explore how we can better serve you.