A recent study from Anthology surveying over 2,700 students across 10 countries found that a whopping 82% of students prefer to have some of their classes or class meetings take place online. And 41% prefer fully online learning, with no in-person element at all. This trend reflects the growing influence of technology on higher education—and the convenience and flexibility it offers. As educational institutions seek effective ways to balance academic integrity and test-taker satisfaction, the demand for online proctoring services has surged.
This shift in educational preferences underscores the importance of assessing every touchpoint throughout the online test-taker journey to better meet their diverse needs and elevate their experience. Doing so can have enormous benefits for your institution as well as your test-takers. However, providing a consistent experience cannot happen in a silo. It requires close partnership with your proctoring provider and a commitment to the entire journey—which begins when your test-takers enroll in their first classes and continues until they have their degree in hand.
Factors That Impact the Online Test-Taker Journey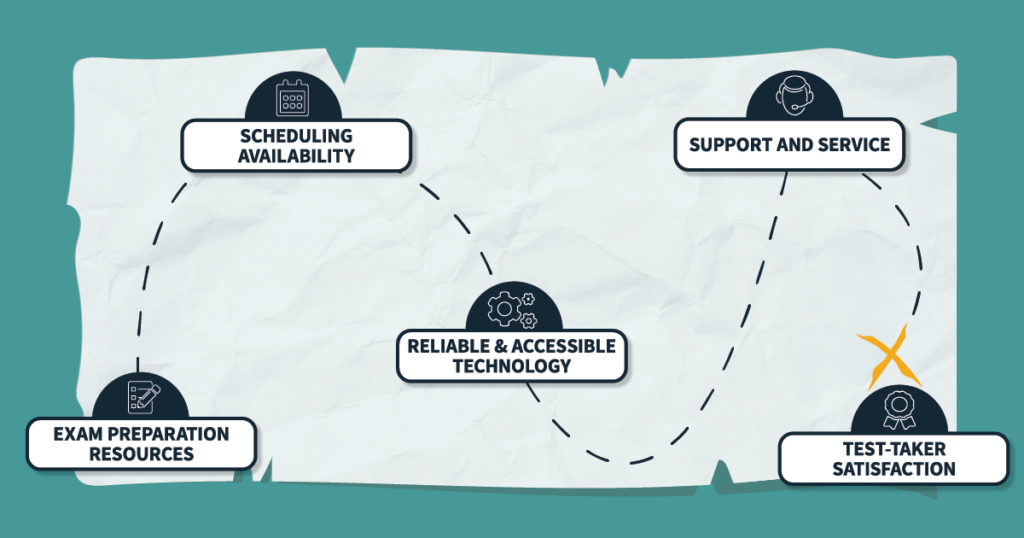 Ensuring a uniform test-taker experience is foundational to a successful degree program, and remote proctoring influences much of that experience. Your test-takers' journey starts before they even schedule their exams, and it encompasses much more than just what proctor they have or what technology they use on exam day. A smooth and frictionless test-taker journey leads to a positive view of remote proctoring, reflecting your institution's approach to exam integrity and commitment to student success. At a time when enrollment is down nationally, any positive word of mouth helps.
A consistent testing experience ripples beyond your test-takers though—affecting your faculty and administration as well. By eliminating points of friction throughout your test-takers' journey, you're also strategically lightening the workload for your staff by reducing the number of support requests, questions, or technical issues that stem from frustration or lack of preparedness. The result is a foundation of trust and confidence that extends throughout your institution and touches every point along the testing journey.
Let's look at a few of the factors that can affect a consistent and trustworthy test-taker experience.
Exam Preparation Resources
A positive exam experience begins with clear and frequent communication from your staff about online proctoring expectations. Well before your test-takers even create an account or schedule their exams, faculty can start preparing them for success by providing information and materials about required equipment, data security and privacy policies, and the typical proctoring process. To do so, well-orchestrated coordination with your proctoring provider is a must. And working with a single provider can streamline this coordination, ensuring your personnel align their communication strategy and disseminate resources equally. By the time your test-takers sit for their first proctored exam, they'll know exactly what to expect—for future exams too.
"Exam-day success depends on a consistent and encouraging message from the moment the test-taker engages with the vendor or institution. We have to meet students at the door, not at the desk."

Evan Travers, Lead User Experience Architect, Meazure Learning
Scheduling Availability
It's no secret that convenience and flexibility reign supreme in today's digital age, and online testing is no exception. Scheduling a time to take an exam can have a huge impact on your test-takers' experience, which can further influence their overall perception of online proctoring and how your institution handles it. Test-takers will have a smoother experience if your proctoring provider has enough staff to accommodate everyone at a time that's convenient to them and intuitive scheduling capabilities with excellent user experience. Moreover, their familiarity and ease with the scheduling process will extend to future exams, further enriching their testing journey.
Reliable and Accessible Technology
Globally, 35% of students cite access to technology as a major issue. Because of the enormous influence technology wields over students and their entire testing journey, it's crucial to communicate the requirements of your proctoring provider to your test-takers. Knowing what technology is needed—and testing those components before exam day—instills confidence in test-takers and lays the groundwork for a reliable and uninterrupted exam session. Plus, given the wide range of technology comfort among test-takers, sharing requirements and providing an opportunity to test equipment ensures everyone starts on even footing.
While access to required technology is the backbone of a smooth online testing experience, platform integration and accessibility play a pivotal role as well. If your institution's LMS is seamlessly integrated with your provider's proctoring platform, your test-takers can engage with a familiar interface that helps—rather than hinders—their testing process. And if that interface is user-friendly and adheres to WCAG accessibility guidelines, your test-takers will feel a sense of inclusivity, reinforcing their positive perception of online proctoring and your institution as a whole.
Equally vital to creating a consistent exam experience is the reliability and stability of the proctoring platform used. A stable testing environment not only boosts test-takers' confidence but also eliminates frustrations associated with technical glitches. When technology operates flawlessly, it conveys to test-takers that their institution values their experience and invests in their success.
The Human Element: Support and Service
In any online encounter—including an exam—human support holds immeasurable value, creating an environment where test-takers feel assured and empowered. Having a human present during online exams has proven to reduce academic misconduct, which not only helps maintain your institution's reputation but also reinforces the notion that your test-takers' knowledge is valued.
While the level of human involvement depends on numerous factors, technical support staff are often consulted, especially as test-takers build their familiarity with online testing. If technical troubles arise, your test-takers need assurance that fast and knowledgeable assistance is readily available. When test-takers feel supported and listened to by actual humans who care about their testing experience, it can make exam day easier and more positive. Furthermore, if your proctoring provider offers a high level of support during every exam, your test-takers will benefit from consistently positive interactions throughout their educational journey.
Depending on the kind of proctoring your institution provides or requires, your test-takers may also interact with proctoring staff. A well-trained proctor who shows empathy, helpfulness, and competence instills confidence in test-takers, allowing them to focus solely on their exam rather than technical or procedural intricacies. And unlike AI-only proctoring platforms, a provider that uses real people—capable of understanding human nuances and providing personalized guidance—transforms the test-taking experience from a cold transaction into a supportive journey.
"With the right provider, proctors function as advocates for the test-takers—a support system rather than exam police—and they play a vital role in the test-taker journey."

Hailey Swindal, Product Marketing Manager, Meazure Learning
Creating Consistency With Your Proctoring Provider
When it comes to online testing, there are many moving parts—and they all contribute to your test-takers' experience. Yet building a consistent experience doesn't, in fact, start with your test-takers. It starts with your proctoring provider. Using a single provider across all your degree programs ensures unity throughout your institution, starting at the top and trickling down to your test-takers. Technologies, policies, communications, and support converge under one roof—creating an environment where institutional staff and test-takers feel familiarity at every touchpoint. As a result, you can build trust and confidence for each test-taker spanning their educational life cycle.
Moreover, cultivating a collaborative relationship with your provider can open the door for candid conversations about areas needing improvement. If your provider is dedicated to refining their systems and operations, together you can deliver the experiences that drive institutional satisfaction and loyalty.
Conclusion
Creating a consistent online experience for your test-takers—one that leads to a positive perception of your institution and its approach to exam integrity—hinges on collaboration with a dedicated proctoring provider. By centralizing innovation, communication, and support, you can ensure a test-taker experience marked by familiarity, ease, and trust throughout the educational journey.
To learn more, check out "Key Benefits of Using a Single Exam Integrity Provider."