Among higher education students, proctors are often painted as "exam police"—or stern enforcers tasked with maintaining integrity at the expense of test-taker comfort. At Meazure Learning, however, we believe in a more nuanced and empathetic approach. In our proctoring and support ecosystem, proctors are not only necessary exam monitors but also genuine test-taker advocates, dedicated to ensuring a positive testing experience and consistent educational journey. And at a time when technology usage is up while enrollment is down, we believe that embracing a student-centric approach to online testing isn't just a choice; it's a necessity.
In this article, we'll dive deeper into our proctoring philosophy, exploring how it transforms the process from a stressful, cold transaction into a supportive and empowering experience. Additionally, we'll outline how we cultivate this approach and what it means for our higher education clients.
Our Proctoring and Support Ecosystem: Balancing Security and Test-Taker Experience
To test-takers, proctoring and support staff are the face of your exams and significantly influence their higher-ed experience. As such, these frontline contributors must be knowledgeable, tech-savvy, and focused on customer service. As a faculty member, instructor, or administrator, you want to partner with a provider that gives its proctors the tools and mindset they need to make your test-takers feel comfortable during an already stressful time. This shift from pure enforcement to advocacy not only elevates the test-taker experience but also underscores your institution's commitment to nurturing a trusted and supportive educational journey.
Our proctoring philosophy is rooted in the belief that every test-taker deserves a fair and respectful testing experience. In fact, the entire purpose of proctoring an assessment is to make sure all test-takers have an even playing field, with no individual having an unfair advantage over another. We turn our philosophy into action through:
Human-centered proctoring—We rely on highly trained professionals to proctor exams, prioritizing real people over AI-only proctoring software. This approach ensures that test-takers experience nuanced responses that only humans are currently capable of delivering throughout their online testing journey.
Continuous improvement—We're committed to refining our processes and technology at every opportunity. After each exam session, we actively seek feedback from test-takers through quick surveys about their platform and proctor experience. This data helps us identify trends and target areas for improvement, resulting in a better experience for all.
Specialized roles—Our proctoring and support personnel have distinct roles tailored to their areas of expertise. This differentiation allows them to excel in their specific functions, ultimately leading to a more secure, personalized, and highly efficient testing experience for everyone involved.
Let's take a closer look at the specialized roles that help bring our proctoring and support vision to life.
Proctoring Professionals: Creating a Supportive Testing Environment
Beyond monitoring exams, proctors help facilitate a smooth and positive testing experience. As guardians of the exam process, their responsibility is to uphold ethical, professional, and security standards. By carrying out their role effectively, they help ensure the smooth operation of the proctoring process so test-takers can focus on their exams.
At Meazure Learning, we believe high-quality proctoring depends on rigorous training processes. While anyone can oversee an exam, a well-trained proctor embodies empathy, helpfulness, and competence in their test-taker interactions and excels at balancing security needs with the overall testing experience. These qualities instill confidence and allow test-takers to focus solely on their exam content rather than getting entangled in technical or procedural intricacies.
To achieve this level of expertise, we require all Meazure Learning proctors to undergo:
Intensive onboarding and training
Weeks of supervised proctoring
Ongoing group training and one-on-one coaching
Proctor certification exams
Weekly blind auditing
This comprehensive training regimen ensures our proctors become true advocates for test-takers by providing the guidance and resources necessary to effectively lead test-takers through the entire exam process.
"By bridging the gap between enforcement and advocacy, our proctors create a safe space for test-takers to demonstrate their true abilities while ensuring the exam environment remains fair and secure."

—Cory Clark, Director of Operational Excellence, Meazure Learning
Intervention Specialists: Resolving Issues with Empathy
Intervention specialists have a distinctive and crucial role in our proctoring ecosystem, setting us apart from other proctoring providers. A proctor calls an intervention specialist into action when there's a suspected integrity breach during an exam session. That said, the role extends far beyond merely identifying infractions.
We meticulously train our specialists in the art of communication, empathy, and conflict resolution. They act as the immediate response team, ready to step in and address any issues that may arise during a test-taker's session. As such, they're instrumental in diffusing potentially challenging situations. Their priority is to understand the root cause of an issue and identify whether it's a technical glitch, misunderstanding, momentary lapse in test-taker judgment, or a blatant attempt to cheat. With a focus on de-escalation, they work diligently to resolve the matter while preserving the integrity of the exam and the emotional well-being of the test-taker.
Additionally, our intervention specialists provide an extra line of support for our proctors. If a proctor escalates a suspected breach to an intervention specialist, that specialist takes the burden off the proctor until the incident is resolved. The proctor is then free to continue monitoring and supporting other test-takers. This collaboration between our proctors and intervention specialists ensures we maintain the highest standards of exam integrity and test-taker support.
Technicians and Support Staff: Ensuring a Smooth Testing Experience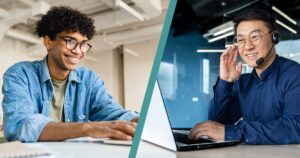 Online exam delivery and proctoring should add convenience—not stress—to test-takers' educational journeys. We recognize that test-takers have varying degrees of familiarity and comfort with technology, so we have two specialized support roles that handle technical issues: one that responds to issues before or after an exam session and another than deals with active session issues.
Consider this scenario: You're a test-taker preparing for a proctored exam scheduled for tomorrow. You log into your ProctorU Platform account to test the equipment you'll need for exam day. However, you encounter an issue during the equipment check. Thankfully, you have free technical support channels at your disposal, so you reach out to a platform representative via the 24/7 live chat feature. The representative guides you through the issue, alleviating any equipment anxiety you may have. On exam day, though, you experience an unrelated and unexpected hiccup as you're connecting to a proctor. You're swiftly transferred to a service delivery technician, who expertly resolves the problem and allows you to resume your exam.
Together, our support representatives and service delivery technicians not only ensure the technical integrity of the testing process but also contribute to creating a comfortable and stress-free experience for test-takers. This, in turn, reflects positively on the overall institution and its commitment to providing fair, valid, and reliable exams.
Advocating for Test-Takers: A Collective Commitment
At Meazure Learning, proctoring and support staff aren't just "exam police"—they're advocates for test-taker well-being and success. Together, they create an environment where test-takers can thrive while upholding the integrity of the testing process. This holistic and empathetic approach to proctoring not only elevates the test-taker experience but also builds trust and satisfaction throughout their educational journey, ultimately contributing to the success and reputation of your institution or degree program.
If you're considering online proctoring, take the first step by asking the right questions. Download our free guide: "9 Questions to Ask When Considering Online Proctoring for Your Higher Education Program."