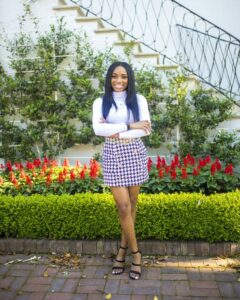 Who I Am
My name is Bria Preyer and I've been with Meazure Learning since August 2020. I work here as an HR assistant, and my favorite part about this role is being able to communicate with so many people in the organization and also being a direct contact for resources needed by employees of the company. I have a bachelor's in Psychology and I'm currently seeking an MBA with a concentration in HR Management. Fun fact: I am left-handed and my birthday falls on International Left-Handers Day! 
What Black History Month Means to Me
Black History Month is one of those times in the year when we all celebrate African American achievements, where our diverse culture stems from, and the challenges we've faced throughout our endurance in America.
I am extremely proud of who I am, and I embrace every part of my ethnicity because, without my roots, who would I be? I am only 22 years old, but it seems as if every week, month, or year I learn something new about my ancestral heritage. To know that our history goes beyond textbooks and pictures proves how extensive our timeline here is.
Black Individuals Who Inspire Me
My current inspiration is Issa Rae, an upcoming actress, writer, and producer. I feel as if her presence in the entertainment industry revealed to many what it is like in our every-day interactions as a Black woman in today's society. From a historical aspect, I have always admired Madam C.J. Walker. She created a successful hair care business for African American women during a time when racial segregation and inequality were active. As the first African American female self-made millionaire, she has set an example for black women of all ages showing that we can achieve any goals we put our mind to! Many young women my age (with myself included) are following in her footsteps and creating our own small businesses. Looking back and seeing the origins of other Black women achieving such goals motivates us even further.
Even though Black History Month is nationally celebrated every February, I choose to recognize and appreciate the actions of my people all year long. One of my favorite slogans is, "They ran so that we could walk!"