Jason Fine Joins the Team to Strengthen the Company's Testing Solution Suite
HOOVER, Ala., April 28, 2021 — Meazure Learning, a full-service testing solutions company for academic, professional and lifelong learners formed by the merger of ProctorU and Yardstick, has appointed Jason Fine as vice president of strategic partnerships. Mr. Fine will start immediately. Click to Tweet this news.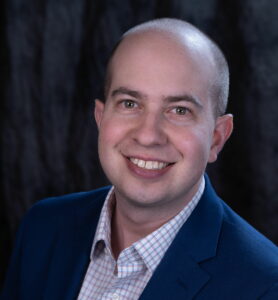 "With more than a decade of experience in the assessment industry, Jason brings a great depth of credentialing, certification, and licensure experience to Meazure Learning right at the time when we are rapidly expanding our services in professional testing," said Jarrod Morgan, founder and chief strategy officer of Meazure Learning.
Meazure Learning serves the higher education and professional testing markets with industry leading exam development, psychometrics and computer-based examination administration. Through its ProctorU services, the world's largest online proctoring solution, live proctors monitor exams to ensure their integrity and assist test-takers if they have technical problems.
Over the past year, the use of online proctoring to protect the integrity of professional credentialing exams has grown dramatically. "We are experiencing a digital transformation and have seen more professional testing organizations adopt online proctoring as a secure, reliable, and safe way to deliver high stakes exams," added Morgan. "We will be building upon our legacy of innovation to continue strengthening our solution through partnerships, integrations, and the addition of new services."
"I look forward to leading our professional testing partnership strategy and efforts to continue accelerating the company's growth as a leading assessment provider. I have gained a deep respect for the organization's progressive attitude and commitment to securely delivering exams on behalf of professional testing organizations, as well as their innovative and customer-centric approach at a rapidly changing time in the assessment industry," said Mr. Fine.
Prior to joining Meazure Learning, Mr. Fine served as an account director at global-assessment provider, Prometric, and recently received the NextGen Professional Award from the Institute for Credentialing Excellence, which recognizes individuals committed to success in the credentialing profession.
About Meazure Learning
Meazure Learning is a full-service testing solutions company for academic, professional and lifelong learners. The result of a merger between ProctorU – the world's largest provider of online exam security and identity management solutions – and Yardstick Assessment Strategies – a leader in psychometrics and computer-based examination administration for professional testing organizations. As the first end-to-end testing provider to lead with an online delivery model, Meazure Learning is transforming the testing and assessment landscape. For more information, visit us at meazurelearning.com, proctoru.com, and getyardstick.com
For the media: Find this announcement with image here.
###
Media Contacts:
Jennifer Harrison for Meazure Learning
[email protected]
+1 916-716-0636
Stephanie Dille, Meazure Learning
[email protected]
+1 612-865-3370