This is the last of a three-part series on how we have navigated and continue to manage the effects of COVID-19.
In the previous sections, we discussed how business restrictions affected our staff and how increased demand exposed opportunities to improve platform performance, review efficiency, user onboarding and test-taker experience. Read Part 1 or Part 2 now.
BRIDGING THE GAP OF TECHNOLOGICAL READINESS
In this final post, we'll describe how we improved program and test-taker readiness for remote proctoring. Some of the most common situations we dealt with included:
Programs that did not have a Learning Management System (LMS) or test driver in place (many of these programs were still conducting in-person paper/pencil assessments)
Programs with an LMS or test driver that wasn't yet integrated with our online proctoring system
Test-taker computers that did not meet our minimum technology requirements
To solve each of these unique challenges, we needed to work closely with our testing partners to find the best options for their programs and their test-takers.
Programs Without Existing Exam Delivery Platforms
When test centers, campuses and workplaces around the world had to close their physical doors, many testing programs faced a big problem: they didn't have computer-based exams or weren't prepared to administer them remotely.
If they couldn't find a way to administer exams online, hundreds of thousands of students and professionals would be stuck in limbo. Students wouldn't be able to take undergraduate or graduate college admissions tests, graduating students wouldn't be able to take certification or licensure exams necessary to practice their trade and professionals wouldn't be able to take elective or required credentialing exams to keep moving forward in their careers.
To better understand the situation we were in, we can look at our Australian partners as an example. Australia attracts the third greatest number of international students in the world, closely trailing the UK and US. When travel bans were enacted at the start of the pandemic, many students were unable to travel back to campus after the break between semesters. Universities needed our help transitioning from paper-based testing (PBT) to computer-based testing (CBT) so those students could move forward with their semester. In January 2020, we delivered approximately 12,000 computer-based exams to test-takers enrolled in Australian institutions. Within a year, we had administered more than 367,000—an increase of nearly 3,000%.
Test Providers with Unintegrated Exam Systems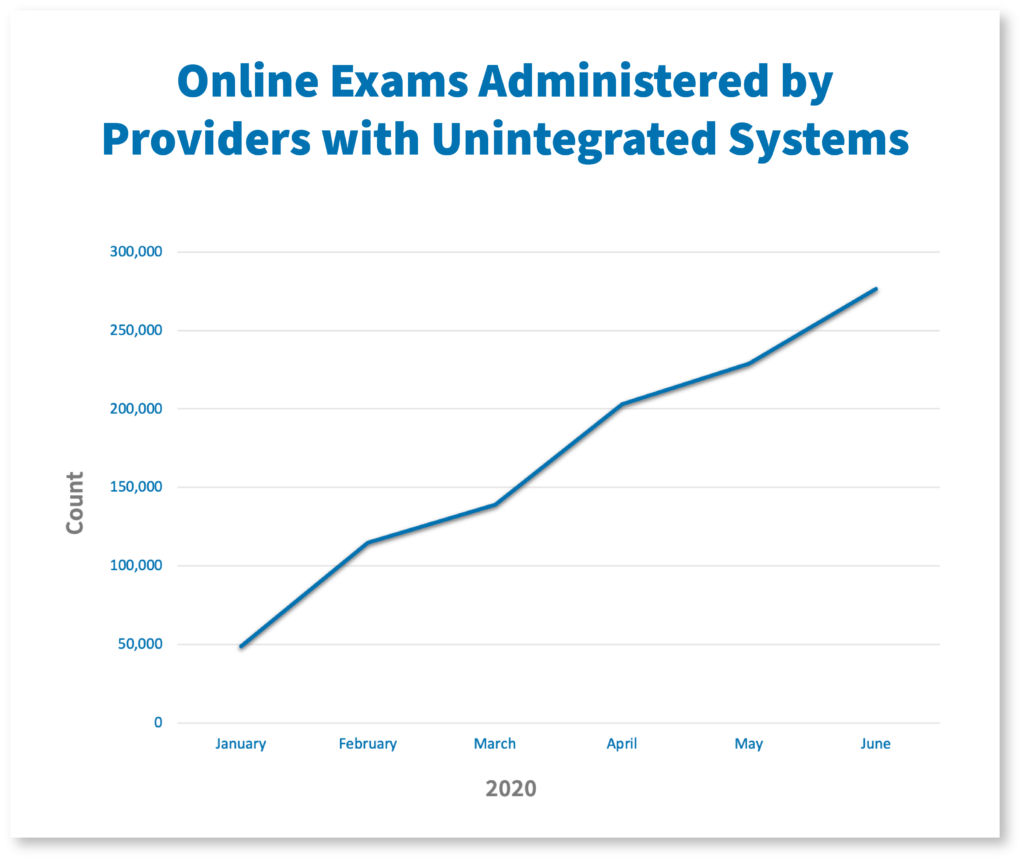 Our online proctoring system is fully integrated with leading LMSs, such as Canvas, Blackboard and Moodle, and follows the Learning Tools Interoperability (LTI) standard. Because of this, we're able to integrate with other systems and exam delivery platforms through our application programming interface (API). The only problem? Integration takes a lot of development time, which many test providers with unintegrated systems lacked at the start of the pandemic.
For these providers, we were unable to use our remote desktop technology to unlock assessments, which is a critical part of our remote proctoring process. Without the remote desktop technology or a software integration, we couldn't unlock assessments without compromising the exam password.
By the end of February, we recognized a critical need in the market. Many existing partners and new partners were counting on us to accommodate hundreds of thousands of test-takers who couldn't access their exams and were, therefore, at risk of missing midterms or professional opportunities. So, we quickly pivoted from other projects, threw everything we had into developing and testing a solution, and waited to see what would stick.
After several iterations, we settled on a concept and identified partners who would beta test it. The temporary solution was conditional: If our system could locate a single point of entry into a partner's API, then we could enter the secret password and unlock an exam. However, if our system couldn't find a way to automate the integration, then our proctors provided a unique public password to the test-takers. Our technology then translated that password into a secret password on the back end. This solution was a win-win: It allowed us to unlock their assessments without compromising the exam password while also saving test provider resources. Although it wasn't a permanent solution, it gave us time to establish a more integrated approach with our partners.
Over the course of two months, we developed a concept, tested the concept with select partners and test-takers and enabled it in our system. While it was an experiment to meet a very specific need in the market, we ultimately became a better strategic partner for test providers while ensuring test-takers could securely take exams that were previously inaccessible.
Test-Takers Who Needed Technical Support
Just as many test providers were not prepared to move to remote examinations, neither were many test-takers. Despite our best efforts working with institutions and testing programs to communicate with their test-takers ahead of exam times, more than 8% of test-takers attempted to take a Live+ or Review+ exam on a computer that either did not meet our minimum requirements or created a negative tech experience.
When a test-taker's computer doesn't meet our minimum requirements, we use our remote desktop technology to troubleshoot the issues. When troubleshooting doesn't work, we often need to reschedule the exam for the test-taker. In worst-case scenarios, we have to ask the test-taker to find another computer to use for their exam. You can imagine how difficult this can be for some test-takers. Beyond the typical anxiety created by taking an exam, the additional stress of having technical issues created a negative user experience.
So, we worked with institutions and credentialing bodies to establish flexibility in the timing of their exams and introduced additional self-service support applications and documentation to alleviate the most common tech issues. Even with some bumps in the road, more than 93% of test-takers who had technical issues were ultimately able to take their exams through our system—and 90% rated their proctor experience as "satisfied" or "very satisfied."
Series Conclusion
As horrible as COVID-19 has been, the challenges it presented have forced us to look at our business in a different way. This has ultimately strengthened our company, bettered our products and provided us with valuable experience. We didn't see COVID-19 coming, but the changes we made helped us become the only live remote proctoring company to continuously offer services throughout the pandemic. We worked hard to get here, and we're grateful for our partners' and test-takers' patience during the past year. While we hope that something like this doesn't happen again, we will be ready to adapt if it does.
We'd like to hear how COVID-19 has affected you and your organization. Please share how you managed to overcome your unique obstacles by emailing us at [email protected].