ProctorU, a Meazure Learning company, was founded on a culture of continuous learning and improvement. We have made more sweeping changes and improvements in the 18 months since the pandemic made its first global impact than we made in our first 10 years as a business. When our clients were forced to migrate online or halt exams entirely, we took steps to double down on our mission of moving people forward in their educational and professional lives.  
 
As the world of education and professional testing went digital, we experienced unprecedented growing pains, pushed the limits of our capacity in every way, and uncovered gaps we had never seen in the market before. But that whole time, we were learning from the challenges, listening to our clients' concerns, and acting on our test-takers' requests as fast as we could. As a result of all those months of hard work, we are proud to say our products, services, operations, and processes are better than ever.
Here are seven practical improvements we've made to our products and services over the past 18 months to better serve you. 
1. Expanded Global Footprint
As demand for remote proctoring grew, we expanded our physical footprint to accommodate more test-takers across all time zones. We made sure there was enough redundancy to cover locations that would go offline during a natural disaster (e.g., hurricanes, earthquakes, tornados) or because of the ongoing pandemic and resulting quarantine mandates.
In 2019, we had 8 operational offices across 5 countries. By 2021, we had 16 offices in 8 countries, with the ability to scale up or down to meet the testing demand of the day.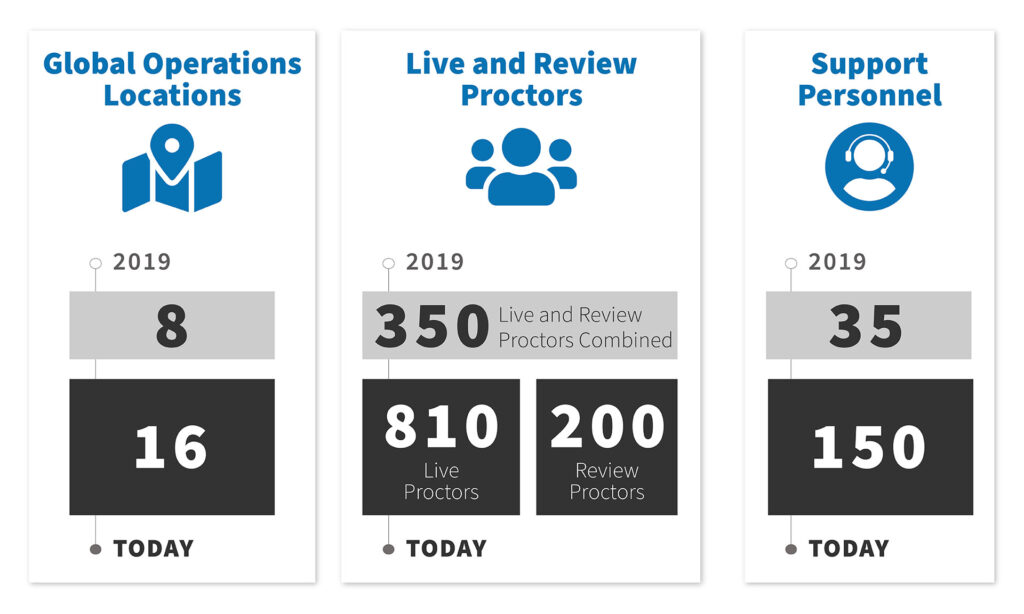 2. Increased Operational Staffing  
If you experienced a long support queue or an extended wait time to get into an exam during 2020, trust us: we felt your pain. We did everything we could to relieve that pressure point, short of stopping time in its tracks to give us more hours in the day (although we would have done that if we could have!). It was clear we needed more people to help our clients and test-takers through this unprecedented event in history.  
At the end of 2019, we had just 350 proctors for our live and review services and only 35 support representatives. By 2021, we had hired and trained an additional 775 professional proctors and customer support personnel, bringing our operational headcount to more than 1,160 people worldwide.
3. Support Chatbot Algorithm Updates 
While adding locations and people was paramount to meeting the new demand, the challenges required fundamental changes to our support response processes. Even with the new support personnel, we couldn't keep up with the increase in support needs that inevitably comes with onboarding new test-takers and administrators. We needed the help of chatbot technology and streamlined procedures. Because of the complexity of our business and the variables that each user faces, we needed a chatbot that could handle a sophisticated algorithm.  
After some trial and error, we found the right one. The results have been huge: We increased our chatbot support resolution from 30% in 2019 to 70%-75% in 2021.  
4. Support Personnel Training & Documentation
We also increased training for our personnel so they could better handle requests and added more self-support documentation to our support center. These improvements led to a significant increase in efficiency and proficiency: 
A 99.4% decrease in ticket time-to-resolution  
An 88%-90% support satisfaction rate
5. Administrator Product Training 
Before 2020, we were able to provide 1-on-1 training sessions for new exam administrators with few to no capacity issues. With a 292% increase in new instructor accounts, we had to find a way to be more efficient with onboarding. That challenge ultimately led to the creation of a new department made up of Product Training Specialists, who handle onboarding each new instructor and providing continual training throughout the instructor's lifecycle as a ProctorU administrator.  
6. Renewed Focus on Customer Success 
We have always had a customer-focused, service-oriented culture when working with clients. But when the world stopped to deal with the pandemic, it was more important than ever that we help guide our clients through their business continuity needs. For that reason, we created a Customer Success Team, which is designed to foster the success, growth, and development of our clients by offering dedicated support, training, and direction wherever needed. 
7. Increased Communication Resources
One of the requests we frequently get from clients is to supply more transparent communication. To that end, we've established additional channels for communication:  
A monthly client newsletter that provides company updates, product and feature release notes, tips and best practices, and relevant industry news  
A webinar series dedicated to online testing and remote proctoring topics that matter most to our clients and their test-takers  
In conclusion, learning from experience is what ProctorU does best. We continually adapt and improve our products and services to match the ever-changing landscape of online testing. In addition to the above, we maneuvered through a host of other situations during the pandemic to help our clients enact business continuity plans at scale. For details on changes made to our proctoring platform, user interface, new user training programs, technical support adjustments, and more, check out our recent blog series, Can It Scale: Online Proctoring in a Pandemic, Part 1, Part 2, and Part 3.